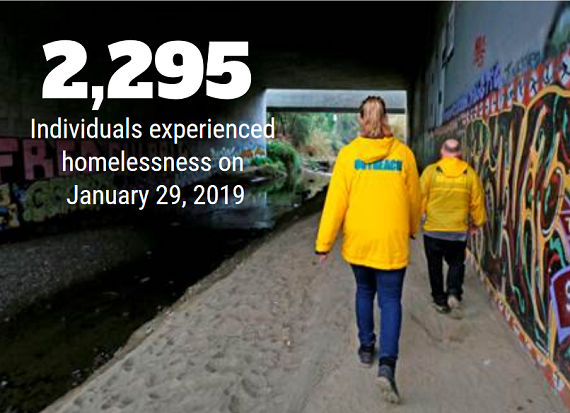 Know of someone facing homelessness? Contra Costa County's Coordinated Outreach Referral, Engagement (C.O.R.E.) program works to engage and stabilize homeless individuals living outside through consistent outreach to facilitate and/or deliver health and basic need services and secure permanent housing.
C.O.R.E. teams serve as an entry point into Contra Costa's coordinated entry system for unsheltered persons and work to locate, engage, stabilize and house chronically homeless individuals and families. The outreach teams identify individuals living on the streets, assess their housing and service needs, and facilitate connection to shelter and services.
To notify a C.O.R.E. team about an unsheltered homeless individual or family, please call 211. Please note that C.O.R.E. teams are not designed for crisis response. For medical or other emergencies involving homeless individuals, please call 911.
People facing eviction can contact Bay Area Legal Aid, which provides legal help to low-income individuals.
[Graphic: 2019 CCC homeless point in time count.]
The numbers are in, and it's not pretty: homelessness in CCC increased by a shocking 43 percent in the last two years – one of the tragic byproducts of recent skyrocketing rents.
Emergency shelters are one response of course, but there are not nearly enough beds in Contra Costa to fill the need, especially for single adults. A lack of beds means that more people are sleeping on the streets, in cars and in tent encampments. Neil Donovan of the National Coalition for the Homeless calls encampments "America's de facto waiting room for affordable housing" and notes that "Living in a tent says little about the decisions made by those who dwell within and more about our inability to adequately respond to fellow residents in need."
[Photo: Oakland Housing and Dignity Village, 2018]
Encampments can range from the unorganized and informal to the very intentional. They can be organized by charities, government or residents. Safe, humane RV parks as a transitional solution (article below) describes how Oakland is creating an RV encampment to get people into transitional housing. This is an example of a sanctioned encampment, but many are unsanctioned and therefore potentially illegal. An OpEd by Anita De Asis Miralle, Criminalizing the homeless should not be the solution (below) describes the clashes that can occur when a self-organized, family-oriented – but unsanctioned -- encampment forms.
Daniel Barth of SOS! Richmond argues in favor of government-sanctioned encampments, but ones that are organized, managed and governed by residents in partnership with charities and faith groups. By permitting these encampments, it can increase safety, stability, social cohesion and correct public negative perceptions. Barth stresses that this last element is critical, because "The #1 need for change is our own willingness to see homeless interventions happen in our own neighborhoods – not across town."
Homelessness in Contra Costa increased by 43 percent in the last few years, according to the county's latest homeless point in time count conducted in January.  Several nearby counties also reported significant increases in homelessness, a dire sign of the Bay Area's crisis of affordable housing and displacement. The data show that approximately 60 percent of unsheltered people in Contra Costa sleep on the streets, while about 30 percent sleep in cars. Only three percent sleep in warming centers, which are short-term, temporary shelters that operate during winter months.
About 2,000 people lack housing on any given night in the county (the point in time count, conducted in late January, estimated the homeless population to be 2295 people), and waiting lists for shelters are often long. The study showed that while around 68 percent of homeless families can be served by available shelters, only 28 percent of homeless single adults can access shelter beds.
In a KQED interview, Jaime Jenett, a planning manager with Contra Costa Health Services, directly spoke to the problem of skyrocketing rents and stagnant wages for lower income people. "They need affordable housing that is really targeted to low- and very low-income folks," she said. "A lot of the quote-unquote affordable housing is just completely out of reach for the people that we're working with."
While the majority of homeless people are between 25-54 years old, Jenett noted that there is a disturbing increase in the number of older adults without homes.
If you're thinking about running for Richmond City Council and would like an endorsement from the RPA, the time to act is now! 
Read about the process and download the questionniare.  Your answers must be submitted by September 1, 2019.  Interviews will take place in September.  The final decision about endorsements rests with a vote of RPA members.
The Activist sat down with Daniel Barth of SOS! Richmond (Safe Open Spaces) to talk about how to tackle homelessness in Richmond. Daniel has been a longtime advocate to reduce and end homelessness both in Alameda and Contra Costa. SOS! Richmond works as an important partner with the Richmond Progressive Alliance's Housing Action Team.
TA: Homelessness has been a problem for decades. What in your view are some of the drivers?
DB: Our communities have for decades seen a lack of community-based support for treatment of mental illness. In the 80's, crack and AIDS ravaged families. No surprise that intergenerational homelessness exploded during the 90's. Yet our safety net shrunk as shelters, treatment centers, and transitional housing were shuttered. The federal agenda has been a major driver for increasing homelessness, with decreased spending and losses of public housing. We all know how rental prices continue to rise, resulting in more rent-burdened renters, while homeownership has declined for lower income earners, since higher wages for some households, results in further pressure on rental markets for lower wages earners and those on fixed incomes. What happens? There's simply not enough access to housing, supportive services, opportunities for making personal change, and emergency interventions to address homelessness.
TA: What are some of the most significant new developments you are seeing these days?
DB: One of the biggest new trends is the aging of the existing homeless population, in parallel with the aging of the general population. More seniors are also falling into homelessness due to the increasing cost of living in the Bay Area – more than half are 50 years of age or older, and yet the average life span for a homeless person living on the streets is 64 years. When we talk with people who are sleeping along freeways, train tracks, and at any edge of our neighborhoods they can stay at, we know that more than 1/3 have been homeless for 5 years or longer, and yet more than 1/3 have been Richmond residents for 20 years plus.
TA: What ultimately needs to change?
DB: The #1 need for change is our own willingness to see homeless interventions happen in our own neighborhoods – not across town. Only then can we enable new opportunities for folks to participate in that are low-cost (to scale-up), encourage self-determination (people "owning" their own changing), and are community-integrated (building partnerships between housed and unhoused neighbors).
The struggle to create Safe, Organized Spaces starts with us. Only through community-integrated approaches can we see improved health & safety in people's living arrangements; the stability required to address unemployment and other issues; a secure place to store belongings and medications while looking for work; improved quality of life and ability to increase income; a sense of dignity and hope; the focus of having a purpose in a community living environment and the ability to serve others in the benefit of community goals. We all need the same things in life.
TA: What should be done in the immediate, short term?
DB: We can't wait for housing and services to materialize for unsheltered homeless people in Richmond. We need interim sheltering interventions. What does this look like? These are temporary, transitional "villages". Many successful transitional villages have been sustained in other cities around the country, which have enabled people to stabilize their lives and ultimately find work and housing. A village consists of a number of small sleeping structures on a single lot – either tiny houses similar to the ones used in Seattle, WA, or Conestoga huts like those used in Eugene, OR. These "emergency sleeping cabins" will meet all of the codes required for emergency shelters.
Responsible individuals who truly want to change their lives are selected to live in these intentional communities, in which residents cooperate and share duties. These are safe and visually attractive, and a primary goal will be to have a positive impact on the neighborhood. A clearly defined set of rules are enforced and staff and "Safety Guardians" are present at all times.
TA: SOS! Richmond is working with the RPA's Housing Action Team on homelessness. What are other things we can do here?
DB: In a Richmond where we stabilize our growing crisis of homelessness, we can then take responsibility for access to housing. One model is to provide affordable, integrated, and well-maintained Municipal Housing. Local governments like ours, supported by the federal government, must build a very large amount of affordable, mixed income, publicly-owned housing, initially by developing existing publicly-owned land. We must stand up for having resources come to West County. We start by developing safety nets of "pocket villages" in our own neighborhoods.
Please attend the Pt Molate "Subsequent Environmental Impact Report" (SEIR) scoping session on July 29, at 6 PM in the Council chambers, 450 Civic Center Plaza. Mayor Butt and City staff are trying to "amend" the Environmental Impact Report from the failed Pt Molate casino plan and adapt it to the SunCal housing tract proposal.
The research for the casino project EIR was done over ten years ago. Things have changed since then, including increased traffic and threat of fire in a high fire area, such as Point Molate. We also know more about climate change and sea-level rise impacts, the importance to SF Bay health of Pt Molate's 50-acres of eelgrass meadows and their upland native grassland habitats, where most the SunCal housing is proposed to be built. 
The Pt. Molate Alliance is meeting outside City Hall at 5:30 PM. Please join, or arrive at least 15 minutes before the meeting begins at 6 PM to fill out a speaker's card. If you do not want to speak, bring a sign or come to show your support. This is a very important meeting to attend to make sure the City does a full Environmental Impact Report for Pt Molate. 
Here are a few talking points:
The proposed project is now 2200 residential units.  This was never voted on by the council and thus is not a legal alternative.
Moreover, this is a significantly different project from the Casino alternative and all other alternatives in the old EIS/EIR. A full new EIR needs to be prepared for evaluation and comment.
EIS/EIR was approved over a decade ago. Circumstances have changed significantly, especially traffic conditions and climate change impacts.  Even if the information in the old EIS/EIR was valid at the time of that document, with the length of time and major changes in conditions, the city must start from scratch and do a full new analysis since the old EIS/EIR is no longer relevant
It also inconsistent with the General Plan that designates the Pt Molate area as open space to protect environmental values.
The proposed project is contrary to the Plan Bay Area policies for regional development. Adopted in 2013, Plan Bay Area is our first regional plan to incorporate a state-mandated Sustainable Communities Strategy. It identified Preferred Development Areas or PDAs close to public transit, existing commercial and retail uses so as to reduce auto traffic and emissions. Pt Molate is not one of Richmond's five PDAs. The City will need to evaluate how it can comply with Plan Bay Area policies and the impacts for failing to do so.
The City needs to evaluate the recently released Hatch fiscal impact report and explain how the City can approve any project that could result in the city losing $3.00+ million in revenue from the proposed development.
The City's Notice of Preparation of the Pt Molate SEIR is here. Please submit written comments to Lina Valesco, Richmond Planning Director,

[email protected]

, by August 12th, at 4 PM. 
If you have questions, please email or call Pam Stello, Pt Molate Alliance Co-Chair, at

[email protected]

.
A big thanks to everyone who came to Richmond City Council tonight, those who spoke against Catherine Montalbo's appointment to the Richmond Citizen's/Community Police Review Commission, and those who signed the letter that we delivered to the City Council. 
Mayor Butt responded to the large group of people who gathered to speak against Montalbo's appointment by pulling the item from the agenda entirely -- so there was no vote on Montalbo tonight.
Councilmember Jael Myrick made the very reasonable motion/suggestion that the City Council be allowed to vote on the appointments of Christopher Whitmore and Armond Lee, the two non-controversial CPRC appointments made by Butt, so that the commission can function. Butt refused, and withdrew their nominations as well, and the City Attorney said there was nothing the rest of the Council could do to stop him. Because he may not be able to get Montalbo approved, it looks like Butt is trying to shut down the Citizen's Police Review Commission entirely. It was undemocratic and vindictive, right out of the Trump playbook, but it got our speakers very fired up.
Butt said he didn't want to hear from us tonight. But more than 20 of us signed up for open comment and used that time to say what we needed to say about the CPRC anyway. It was truly inspiring to see a diverse group of real Richmonders coming together to take care of our city's most vulnerable people.
Only two people spoke in favor of the appointment, one of them being Montalbo herself.
Check out the video here, comments on Montalbo start at 23:50.
After the meeting one of of our allies was asked if Butt was going to shut down the CPRC forever. He responded, "Well, we won't let him." Amen to that. Stay tuned for another update with next steps!
Anyone who wants to get these updates can sign the No on Montalbo Letter to be added to this list
Join us on May 4th 2019 from 4-6pm for a discussion with local author and highly successful housing activist, Randy Shaw!
We will discuss his new book: "Generation Priced Out: Who Gets to Live in the New Urban America" and particularly how it relates to Richmond.
Together we will have a discussion about how to address the challenges Richmond is facing during this ongoing housing crisis, and how to fight racial and economic inequalities in our city. We need solutions to bring more affordable housing to our working- and middle-class communities, and we need local government to encourage and cultivate more inclusive neighborhoods.
This is your time to participate in this conversation. It takes a city to fix our housing crisis!
Please RSVP so we can plan ahead: https://www.facebook.com/events/821260558227855/


More info about Randy's work:
https://generationpricedout.com
http://beyondchron.org/author/randy/
https://www.thclinic.org/
https://www.kqed.org/forum/2010101868458/activist-randy-shaw-takes-on-san-francisco-and-urban-americas-housing-crisis
Co-Sponsored by:
On February 23rd, at the RPA's Membership Meeting, the Housing Action Team announced its goals for 2019. Our members also had an update on what the HAT has been working on in the past few months.
Below is all the information you need to know:


Housing Action Team Goals for 2019:


1. Speculator's Tax to support affordable housing
This policy works by establishing a tax to discourage speculative investors "house flippers", from buying and rapidly reselling properties. In many communities like Richmond, large investors are buying up groups of homes and selling them for a quick profit. When these speculative investors do this, it artificially increases the demand for housing, forcing families to compete and pay higher prices and increasing rents and evictions. This makes it more difficult for moderate-income families to buy a home. A tax on speculators discourages this, which helps lower the high price of homes for sale. The tax also raises public money that can fund city services like youth programs and street repairs. (Haas Institute 2017)


2. Updating the Rental Inspection Ordinance
We are currently working on two angles: Inclusionary Housing & In-lieu fees.
Read more
David Duhalde is a DC-based political and socialist activist, and is the current Political Director of Our Revolution – a progressive political action organization inspired by Senator Bernie Sanders' 2016 presidential campaign. 
Mark your calendars for a discussion with David: "How Can Our Revolution Work More Closely With East Bay Progressives?" hosted by the RPA. It will be held at Steve Early's house on Monday, February 18, from 3-6pm (747 Lobos Avenue, Richmond). Beer, wine, and snacks provided. (Additional food or drink contributions welcome!)
Please RSVP to Steve Early at [email protected] or at 617-930-7327.
Read more